Hey guys! The turkey is n the bin and the New Year is in. Welcome to Mundanevision. 
Chris: Its a grey day where we are, so I hope lots of you are inside reading this. If you're not at least bookmark it for later. Or get the new amazon echo to read it to you.
Poppy: I didn't know it could do that.
Chris: Well I am not sure it can read this blog, but it can read audiobooks and papers to you. Its very exciting.
Poppy: Ah yes, because you have recently purchased one.
Chris: Yes, I have. I love new technology, its much better than old technology. Or even last years technology.
Poppy: It is surprising the rate at which it improves.
Chris: It is, maybe one day this blog be out of date, and Arnold will have to come back from the future to save it.
Poppy: Arnold?
Chris: Yeah I was avoiding saying Schwarzenegger, in case you were struggling with spelling.
Poppy: Oh well thank you! Still ended up having to google it anyway.
Chris: In the 85th reboot of the franchise.
Poppy: I think we all just a bit passed it by now.
Chris: Yeah but I have a really good idea for the 85th reboot… Arnold becomes an ecowarrior and save trees from being destroyed to make paper.
Poppy: Hopefully it will be before the 85th, not sure the planet can hold out that long.
Chris: What about if all the film scripts are written in 180 characters or less to engage the younger audiences.
Poppy: I think they already are.
Chris: Wait, I am not late am I. Can I go back in time and stop that happening?
Poppy: Is your name Arnold?
Chris: No, I am the doctor. Time travelling and curing medical conditions.
Poppy: Must be a treat to go back to medieval times then, plague and all that.
Chris: You can't cure that bit, its all a bit confusing.
Poppy: Oh right, well maybe you should figure it out?
Chris: Yes maybe. Before I go back so I don't waste time figuring it out while I am there. Which make for a good dramatic story, but do nothing for my medical career, they will think I am completely incompetent.
Poppy: It would be fun to have friend in all the different time periods. That way when someone annoys you, it is possible to go to a time before they were even born.
Chris: Oh don't you bring Matt Damon into this.
Poppy: I don't think that's fair. Bruce Foresyth maybe, but surely not Matt Damon, he is easy enough to ignore?!
Chris: We all hasve a little Matt Damon inside of us, after all we are all Bourne. And you only become Bruce Foresyth if you play your cards right.
Poppy: Well I personally am thankful we can't all be Bruce. Which by the way is a really ugly name.
Chris: Bruce is not that bad. Strictly speaking.
Poppy: hmm… anyway friend in different time periods would be very cool.
Chris: Oh  I see what you mean, friends in  different time period. hat would be cool to have a medieval Ross and Rachel and a Victorian Ross and Rachel, then an Elizabethan Ross and Rachel… You get the picture.
Poppy: Not exactly what I had in mind, but still very cool.
Chris: Is though, think hoe many more series there would be, blackadder would be very annoyed.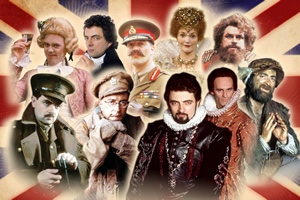 Poppy: I LOVE THAT!!!
Chris: Yes blackadder is very, but if you are bitten by one not so much.
Poppy: A friend of mine sat on one once. It was very uncomfortable.
Chris: The only snake I have ever antagonised is the old mobile phone game.
Poppy: I was going to say the only snake I have sat on was my sister when she's annoyed me. A figurative snake of course… she's human really.
Chris: Away from snakes, or maybe towards them? Did you hear about Donald Trump this morning?
Poppy: Do I want to, that's the question?
Chris: That would have made Hamlet much long, to hear or not to hear?
Poppy: So Donald Trump…
Chris: Yes. Apparently he is going to keep Guantanamo Bay open, so he can "catch more bad dudes"
Poppy: Anybody who uses the word "dude" is not fit to run  a country.
Chris: Maybe he thinks he's president of the 90's
Poppy: Not this is unfortunately very current.
Chris: I think we have run out of time, which is strange because time is infinite. Peace.