Hey guys! Happy International Women's Day… plus two. I'm very lucky to have my own international woman co-hosting the blogisodes with me. It's Siri everybody! (Rupturous applause)
Chris: Hey Siri.
Siri: Hey Christopher, how are you this fine day?
Chris: I'm good thank you! Still reeling from the fact that Barbie was 58 yesterday!
Siri: 58?! I thought it was 50. My word she's old.
Chris: With all the plastic surgery she's had, she looks really good from it!
Siri: Aboslutely. That's cool though, a good way to spend International Women's Day is celebrating women – whether they are made out of plastic or not.
Chris: I wonder if the economy has hit Barbie hard yet, and she's had to sell her dream house? It's more like a dream cottage now.
Siri: Very true. And I wonder what's happened to her toy boy, Ken.
Chris: Oh, she divorced Ken long ago.
Siri: Good, she should keep being awesome by herself.
Chris: Yeah, I feel a bit sad for Ken. He's no longer in the picture. He's obviously been traded in for a younger model…
Siri: Ahahahaha! What else has been going on recently?
Chris: Well, there's always the Trump stuff.
Siri: Shh shhh I don't know what you're talking about what is Trump stuff what even is it no don't tell me shhhhh stop mentioning Trump.
Chris: Okay, I am worried this week. If we trigger Brexit, does that mean we lose the letters 'E' and 'U' from the alphabet?
Siri: Oh, absolutely! It will be a b c d f g… etc. A whole new world. Or, as we'll soon be saying, A whol nw world.
Chris: I feel sorry for the children, because those magnetic letters you stick on the fridge aren't going to be much use anymore.
Siri: I know, and can you imagine trying to learn to spell in the English language without those letters? Writing without an 'E' is difficult enough!
Chris: So an elephant would just be a lephant?
Siri: No, not even that! It would be a lphant!
Chris: You can tell I cannot spell. I also came up with a revolutionary new way of reducing the time women spend in labour.
Siri: Uh huh, yes, how so…
Chris: They should make and manufacture babies on Amazon, therefore with Amazon Prime it would be next day delivery! And you could cut down the cost of having a baby. Beds would be freed up and everybody would be cured – there'll be no diseases!
Siri: And if you don't like the kid, then Amazon Prime does free returns!
Chris: That would be a bit cruel, though, wouldn't it?
Siri: I don't know, there are some pretty difficult kids out there in the world.
Chris: Imagine reviewing all kids on Amazon a few days after the delivery. Did they meet your expectations?
Siri: It would be so difficult though, as soon as the kid wanted to make life decisions that the parents weren't happy with – Amazon might get a lot of complaints. I think Synths from Humans would be a better thing to deliver first. Just to get some practice and make sure the system kind of works.
Chris: Oh well, you don't want to use the reviews for the kids on amazon that I've written already, just for some flavour of the kinds of things people are likely to say.
Siri: Oh no, what kind of stuff have you said?
Chris: Jeremy, ****. (That's 4 stars, not a swear word). Quite a nice kid, plays football and interacts with others but would have preferred a rugby player.
Siri: And what happens when Jeremy grows up and reads that? I'm sure he'll kick some footballs at you and then run away. Then you'll be sorry. Have you seen the bottom of football boots?
Chris: That's what parental lock is for.
Siri: Aha, you're the lying kind. Keeping your kids away from all the mean things that are beings aid about them. How protective you are.
Chris: I just want to say that it's not me who's the problem, it's Jeremy, and just a sample of what could happen. Are you ready for another one?
Siri: Go for it.
Chris: Ron ****. Is quite a good boy, but he plays music too loud. I think volume control is broken on his stereo.  And the last one I've got here is: Jane ***. Enjoys playing with Barbie, however, she was not expecting to deal with an old age pensioner.
Siri: Poor kids. So confused about the world.
Chris: What do you think? I think this could take off.
Siri: Oh absolutely, you just need to find the scientists to actually grow some babies in 24 hours. But the tricky bit's definitely over!
Chris: Well, that's easy as well. I mean, look at the film Gremlins. You water them after midnight, and then they multiply. I think that's what I should do in this case.
Siri: Although, that might create some very smelly children, because if they multiply when watered, they won't be able to take showers without there being thousands of them!
Chris: I see what you mean! We could employ really big showers?
Siri: Yes, but you'll still have hundreds more mouths to feed! Maybe make some sort of patch that counteracts the multiplying? Or talk to that character from Delicious, she seems to survive even though she's allergic to water, so she must have a way of dealing with it.
Chris: Or talk to Ed Sheeran, he's managed to Divide them!
Siri: Excellent point, very true. Although he hasn't actually had any children of his own yet, so he has managed to divide on paper, but not in real life.
Chris: Good boy, how old is he? He knows maths, he knows division!
Siri: I think he's about 25, but you'll have to ask him. Maybe test him, to see if he can count that high? Although he's Ed Sheeran, I'm sure he can do anything.
Chris: I can see his review on Amazon now: Ed Sheeran *****, proud feeling when he divided for the first time. Such proud parents.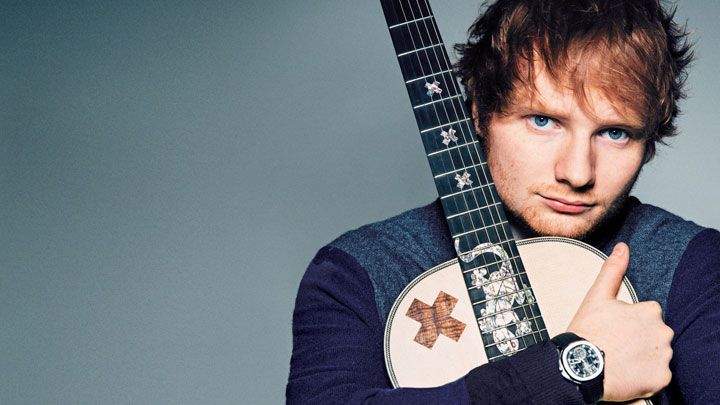 Siri: Yeah, he would be the ideal kid to receive from Amazon Prime!
Chris: Right, I think it's a rap! Do you wrap things on Amazon? I don't know.
Siri: You can choose to have them giftwrapped! Might tear a bit if Ed Sheeran or a new born baby is inside it though.
Chris: No, they train them to stay still! Okay guys, thank you very much for reading/listening. I'm off to order a kid on Amazon, I'll see you next week. Peace x